AAUW's spirit is as passionate and timely today as it was in 1881, when a small group of female college graduates banded together to open the doors for women's career advancement and to encourage more women to pursue higher education. Today, we seek to advance equity for all through research, education, and advocacy.
We are:
A leading voice in the nation to advance equity and education for

women and girls.
A community dedicated to breaking through educational barriers so that all women and girls have a fair chance.
United as a national, state, and local organization with over 170,000 supporters and members nationwide.
Women making a difference, both individually and collectively.
Hendersonville AAUW…
Celebrates 45 years of advancing gender equity in education and workplaces.
Supports women and girls through education, scholarships, and public policy initiatives. We've contributed over $60,000 in scholarships to Blue Ridge Community College students.
To learn more subscribe to our newsletter.  
---
Join Us  Join AAUW and the Hendersonville Branch
---
What brings us together?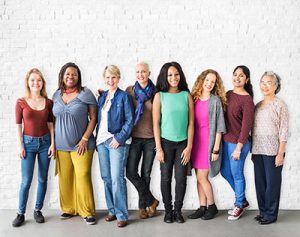 Our Mission: To advance gender equity for women and girls through research, education, and advocacy.
Our Vision: Equity for all.
Our Values: Nonpartisan. Fact-based. Principled. Inclusive and Intersectional.
Our Issue Areas: Economic Security, Education and Training, Leadership.
Our Network: Hendersonville is part of a network of 16 AAUW Branches in North Carolina. A state board provides support through a state AAUW NC website, branch visits, and a monthly state newsletter, Connect (see heading on right side of wepage: Newest Issues of Connect).  All branch
members are members of AAUW NC.  Read more information about membership.
Get Connected!
Visit any of our programs, events, or Special Interest Groups (SIGs) to get to know us.  Read more about our Programs.
SIGs

: From Book and Art Study Groups to Bridge to Equity Advocates,  We offer activities for women with different interests. And there is always room for one more!

Lunch-Time Programs

: Featuring guest speakers and panel discussions
cover a broad range of topics.

Networking:

Wine socials at local women-owned businesses.
Find more program information in our newsletter and in our website menu and sidebar links.