AAUW NC 2021 Annual Meeting
March 19 and 20, Friday evening and Saturday morning, via Zoom
Kim Churches, Chief Executive Officer of AAUW, will be the opening speaker Friday at 7:30 pm. She will bring us an update of what is happening with our national organization. Kim began her work with AAUW about a month prior to the national conference in Washington DC in 2017. This is the first time in recent years that the Chief Officer of AAUW has been the featured speaker at our annual meeting. We are pleased that our members have this opportunity to hear from Kim Churches directly. Registration will open for this Zoom meeting after Feb 28th. Look for more information in CONNECT and on the state website at that time.
Dates for General Meetings — 2020-2021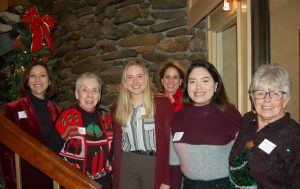 Due to Covid precautions, all general meetings, held on the second Friday of the month, will be via Zoom. Meetings are open to the general public. For a Zoom link, contact Mary Ann Bents at mabents@verizon.net.
February 12, 2021
"Smart Start North Carolina"


Speaker: Carrie Ann Chandler

March 12, 2021

"Our Experiences In Publishing"


Panel of speakers: Georgia Bonesteel, Ann B. Ross, Zsofi Teleki

April 9, 2021

May 14, 2021

possible Spring Luncheon
Dates for Board Meetings
Board Meetings are held on the fourth Friday of the month at 9:30 a.m. at Trinity Presbyterian Church, 900 Blythe St. Due to the current social restrictions, all Board meeting will be held via Zoom until further notice.
| | |
| --- | --- |
| 2020 | 2021 |
| | January 22 |
| August 28 | February 26 |
| September 25 | March 26 |
| October 23 | April 23 |
|  December 4 | May 28 (Retiring and New Board) |