Twelve ladies from Hendersonville met together in March 1974 to form a satellite branch of AAUW from the Asheville, NC branch (which was established in 1915).  New members were recruited each year until the Hendersonville group grew from 15 to 74 members from 1974 to 1978, at which time they assumed full branch status. On June 6, 1978, the Hendersonville AAUW branch was chartered.
During the first five years, the branch focused on community education by tutoring students, both elementary and adult, and supporting the Junior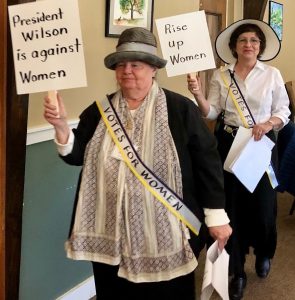 Achievement program for high school students. They presented trophies to the best Junior Achievement students. In those five years, their membership grew to 150. For fundraising they offered The Barter Theater shows from Abingdon, VA to Hendersonville audiences and used the money for scholarships for young women. At that time, the branch received a Governor's award for exemplary volunteer service to the public schools in May, 1984.
Though the AAUW Association had established LAF (Legal Advocacy Fund) in 1981, the Hendersonville Branch contributions to LAF  didn't start until 1991. That first year they sent $700 to the fund. In the late 90s, the branch had over 200 members.
From the 1980s through 2014, the Hendersonville Branch focused on many different projects:
Inheritance Laws in NC
Tutoring in public school
Career Days to encourage girls to graduate from high school and attend college
Women and the law
Health concerns for women, such as tobacco, heart, mental and osteporosis
Gender equality
Hendersonville courts and their treatment of women
Alberta Burdett Young Authors project to encourage creative writing in elementary age children
Enrichment programs for girls studying math and science with a STEM FAIR for girl scouts
Weekly meetings with 8th grade Latino girls to encourage them to graduate and go to college
Fund raising events: Afternoon Tea and Bus Trips